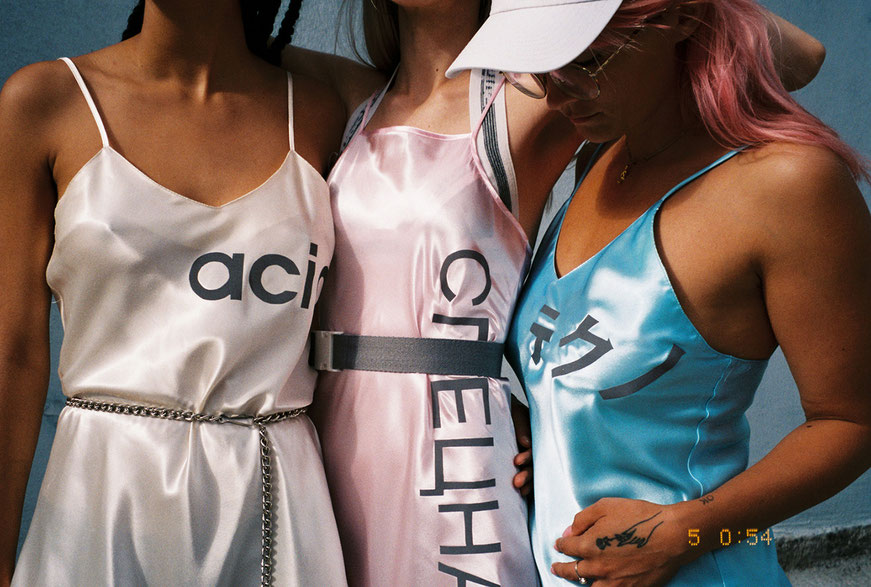 I first spotted the amazing designs by MELISA MINCA on a couple of my friends and I was very curious to know who was behind it. What I didn't expect was an upcycling, Berlin based fashion designer who additionally has an amazing eye for visuals and moods. We got to do a little personal interview with her that gives an insight into how she started her own brand and what ethical fashion can also be about today!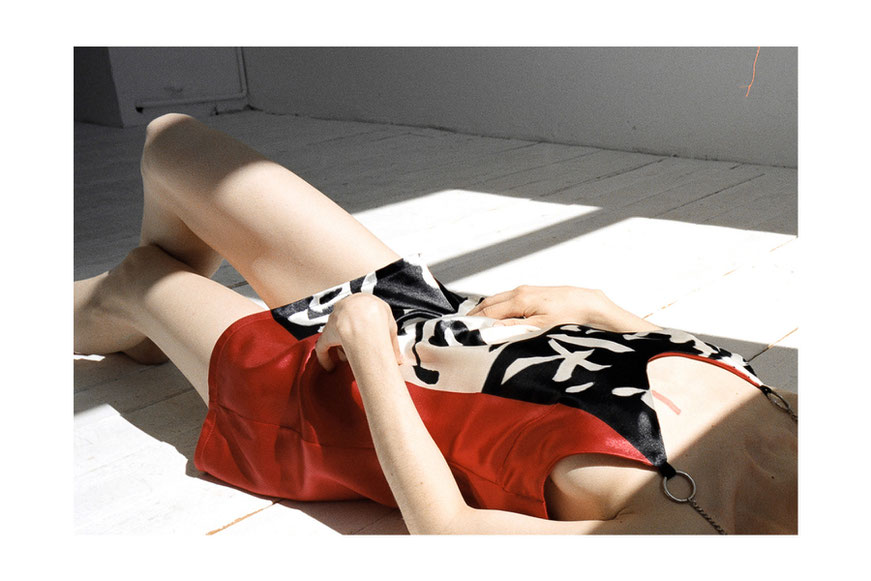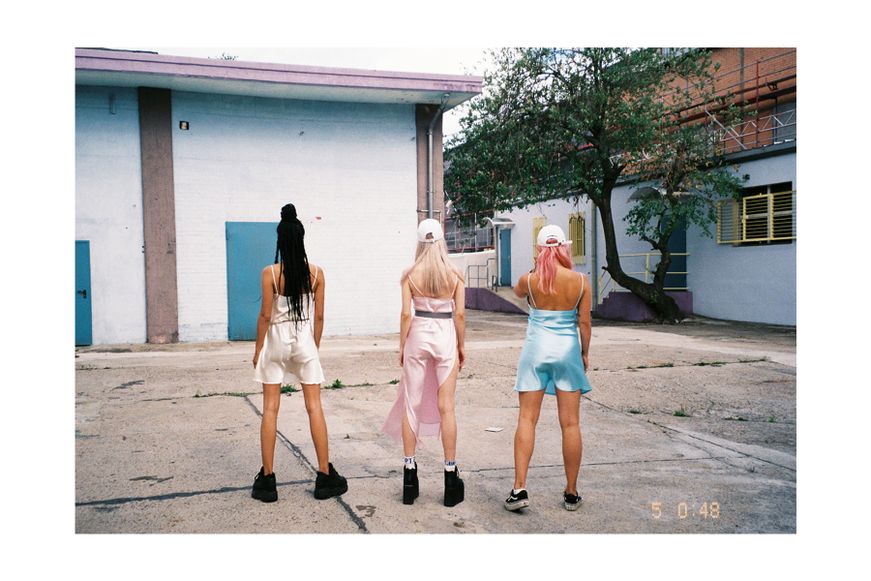 Melisa tell us more about where you're from and where you have been raised?

I was born in a small town called Trenčín in Slovakia. But I'd say I'm from Europe. We moved when I was 1 and thus I grew up in Bratislava.

You currently live in Berlin so can you tell us why you chose this place?

I've lived in Berlin for 3 years now. After three visits and finishing my studies I decided to move here and since then I didn't really want to go back to Slovakia. Berlin is an amazing place full of exciting opportunities and interesting people. I love it because diversity and oddness are celebrated here and I'm able to be myself (whatever that 'self' is on that particular day) without being constantly. Alternative lifestyles thrive here and it's incredibly inspiring!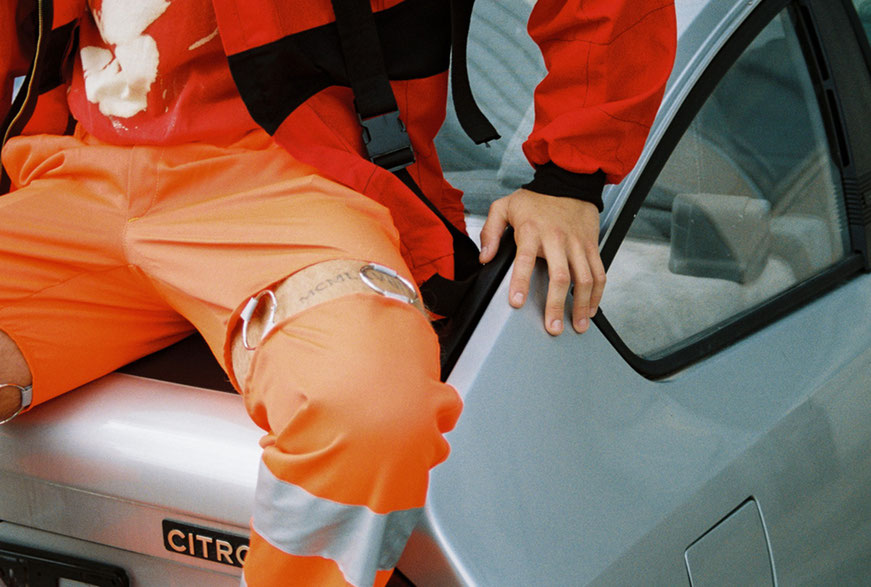 How did you start with fashion?
I've had a blog for six years now and been sewing for three of those. Learning how to sew was a question of time for me. My mother, my aunt, my grandma all sew and my great-grandma even used to run her own tailoring shop. During the Soviet times in Slovakia making your own clothes was the only way to stand out from the crowd. So I think this mindset was passed on to me from the women in my family. As a teenager my love for expressing myself with clothes started to develop and on my style blog I documented it to exchange inspiration with others. What sparked my interest in ethical fashion was definitely my Sustainable Development Master Studies, which I finished off with writing my dissertation on sustainability of fashion in Slovakia.

This sounds amazing to us! So what do you think where your passion comes from?
I like being creative, but with a purpose or functionality. Dressing myself and other human beings fulfills that requirement nicely. I feel like what we wear influences who we are and vice versa. For me it's fascinating to play with that and come up with ways to enhance and celebrate who we are and who we want to be on a particular day or in life in general.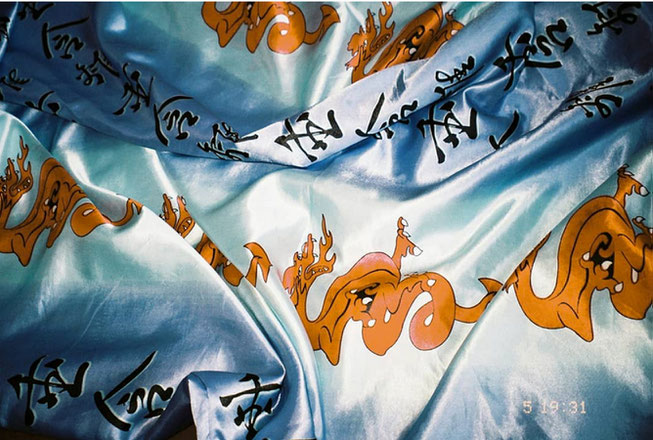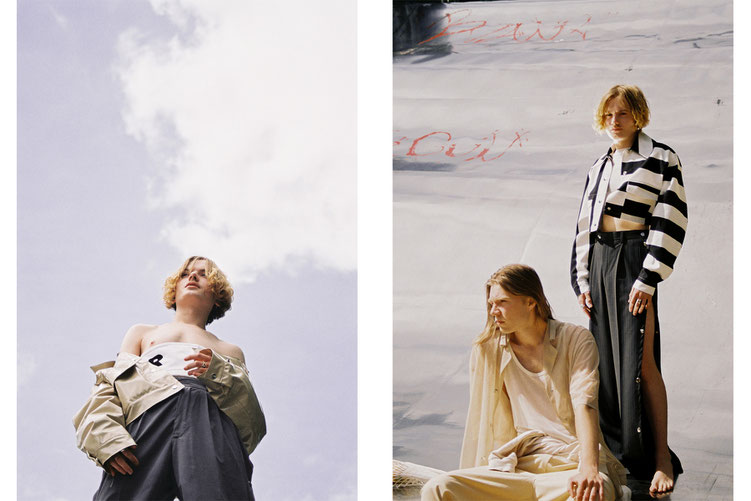 What do you think who influenced and inspired you the most besides your family traditions?
I guess the very early interest, although quite superficial, was sparked by my mother, who likes to follow fashion trends, but also has an amazing sense of style. From a very young age she took me shopping for clothes not only as necessity but more as a fun and bonding pastime.

What do you love the most about fashion?
I love the transformative effect it can have. Not just on your look, but on your mood and moods of others. I love when fashion is political, when it makes a statement and has the potential to transform people's opinions on things that matter, such as breaking the beauty standard and stereotypes and achieving more understanding and empathy. And I love how fashion is already transforming itself from within to be more sustainable and conscious of its impact, although very slowly and very bottom-up. Fashion has no (or shouldn't have any) boundaries!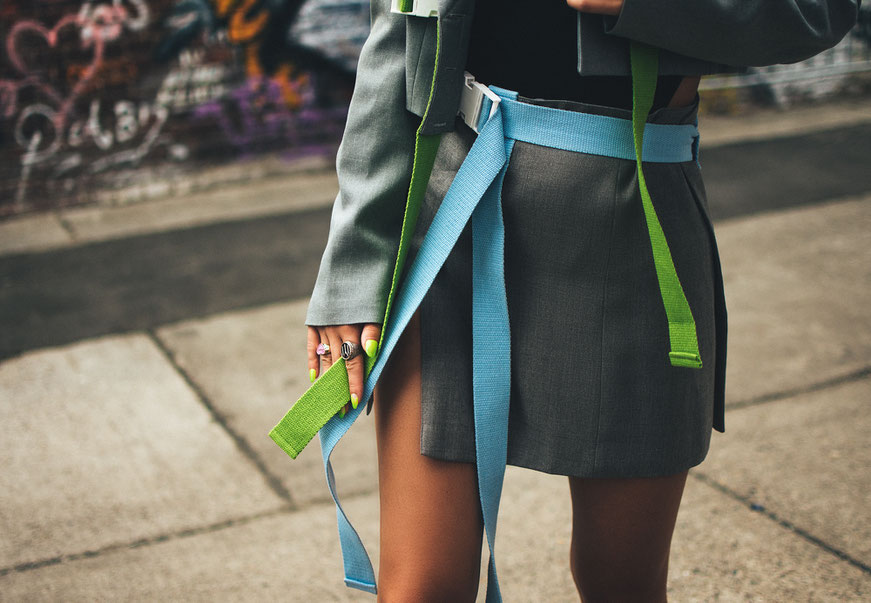 If it wouldn't be fashion…Have you ever thought about doing anything else? What would it be?
With my education, I'd probably work for an NGO on something that involves a lot of traveling, exploring new places, moving and solving problems creatively with new technology.

Please tell us more about your amazing upcycling brand?
First of all, it's a testament that ethical fashion can be more than just brown, hemp and for rich people. MM is for eccentric individuals who want to stand out, but at the same time not contribute to the bullsh*t with which the fashion industry is fooling consumers and exploiting its employees. My mission is to transform the way people look at clothes, but also the way they treat each other. What one is wearing shouldn't perpetuate any sort of hierarchy, but instead celebrate our diversity. 
As a consequence I divide MM to 2 collections: 'System Recovery' is made up of upcycled and repurposed pieces from 2nd hand materials such as curtains, blanket covers, table cloths. I also rework clothes, which I get in 2nd hands or flea markets. These are all one of a kind, and I totally live for that since uniqueness is important for me.
The custom collection are pieces which I make to order for my clients after I've made a sample collection. They also come to my studio to be measured and I really love this process since it's so personal. The amazing satisfaction I feel when I'm able to create a piece which will be significant to the person wearing it and they won't throw it out after one season.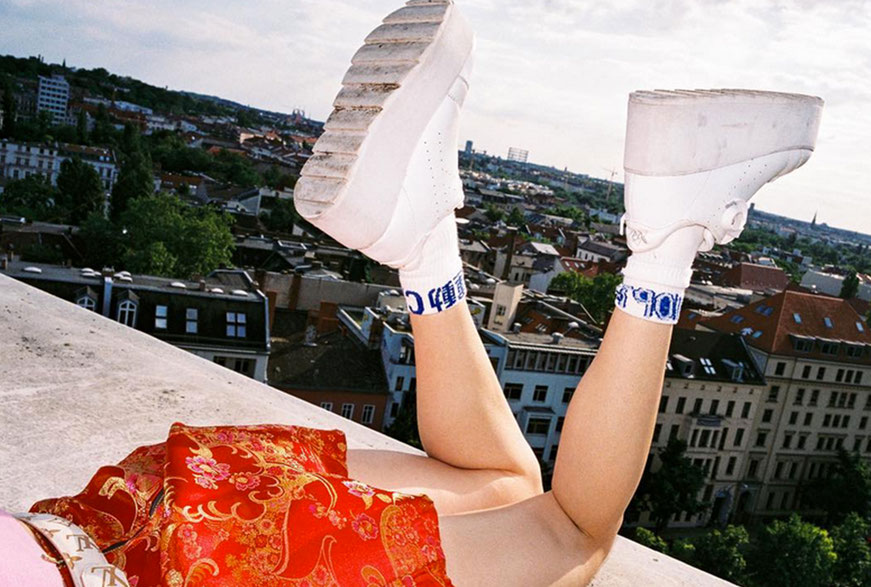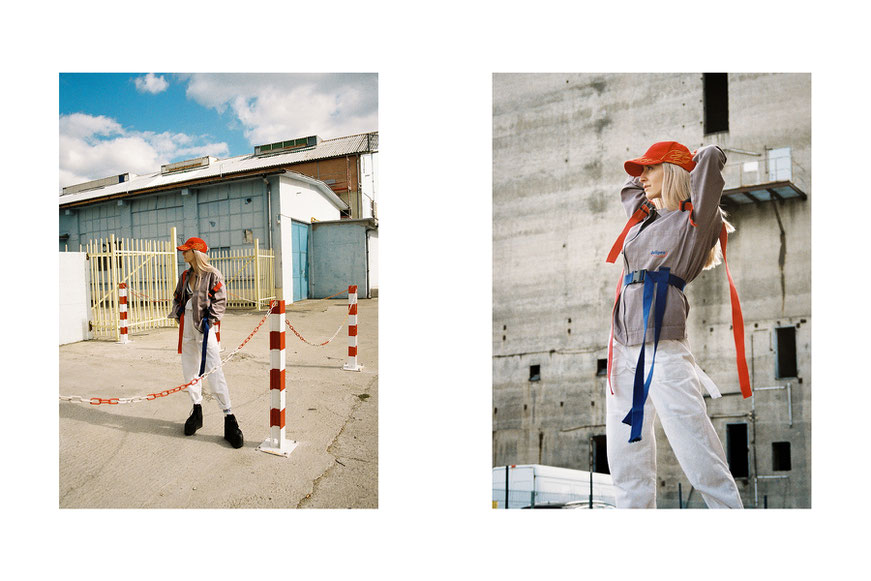 Your pieces are very recent and necessary in a fast driving fashion industry so did you also get the chance to join Fashion Week?
I did! But only as an attendee and a model so far. It was for DOMINIKA KOZAKOVA at Prague FW this September. Was super fun, but also challenging since I'm not used to giving full control over my appearance to a stranger. I didn't recognize myself in the mirror. It was definitely a valuable experience.


I feel you - for me it would be also strange to hand control. What do you think where you expect yourself in 10 years?
Oh god, I don't like this question. Maybe because these days the future is so uncertain that it's hard to even tell what my life will be in a year. I'm very career oriented, so probably still hustling, but hopefully less hard!


Let's make it personal: Your three favorite things in life, which you couldn't live without?
If you're asking about physical things… Pizza Ristorante Funghi, sewing machine, my phone…


Not physical things:
Falling in love, internet and hot summers!


How would you describe your personal style in three words?
Eclectic, Flashy, Chameleon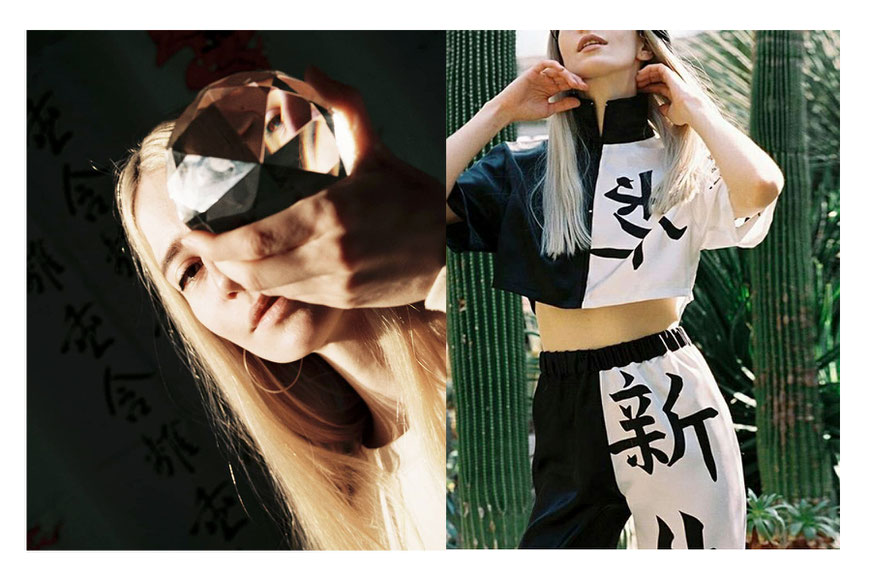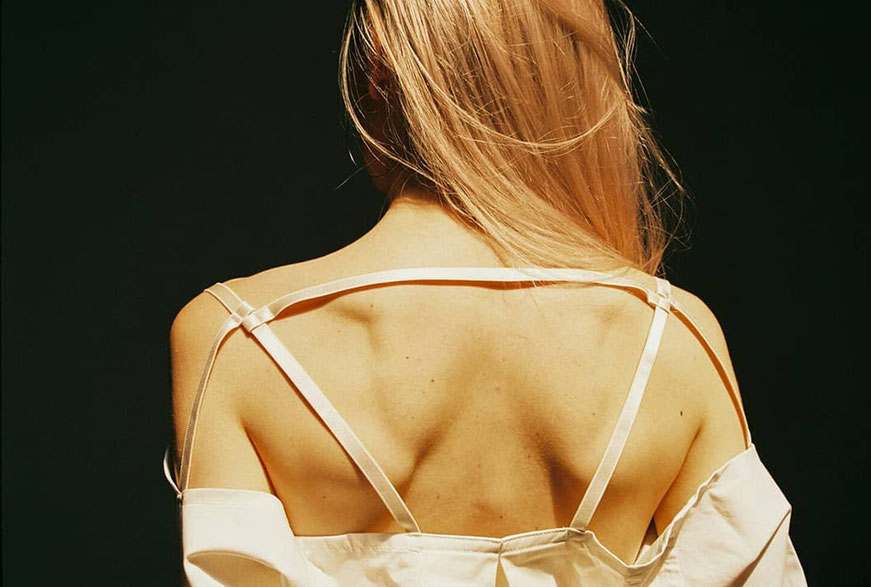 If you believe in fashion faux-pas - what's your personal faux-pas?
I don't believe in this, but maybe from the perspective of the general public: I have holes in almost all my socks, stains and generally sometimes my clothes are dirty and smelly :D We have a saying in Slovakia which describes this situation very well: The shoemaker goes barefoot.
We want to know more about your personal preferences so for the fun factor some 'either…or' questions and you can decide:
Hip Hop or Techno?
Hip Hop, I love moving my non-existent booty.
Cat or Dog?
Dogs, cats hate me…
Sneakers or Heels?
Sneakers, I'm comfy as fu**!
City or Country?
City forever!
Bicycle or Car?
Car, even tho bike is my main means of transport. I recently started driving and it's a lotta fun!
Seoul or Tokyo? (We can also play this with New York or Paris?)
Out of those I only spent extended period of time in NYC, so I'm gonna say Berlin!
Style or Function?
Both at the same time!
Early or always running?
Always running…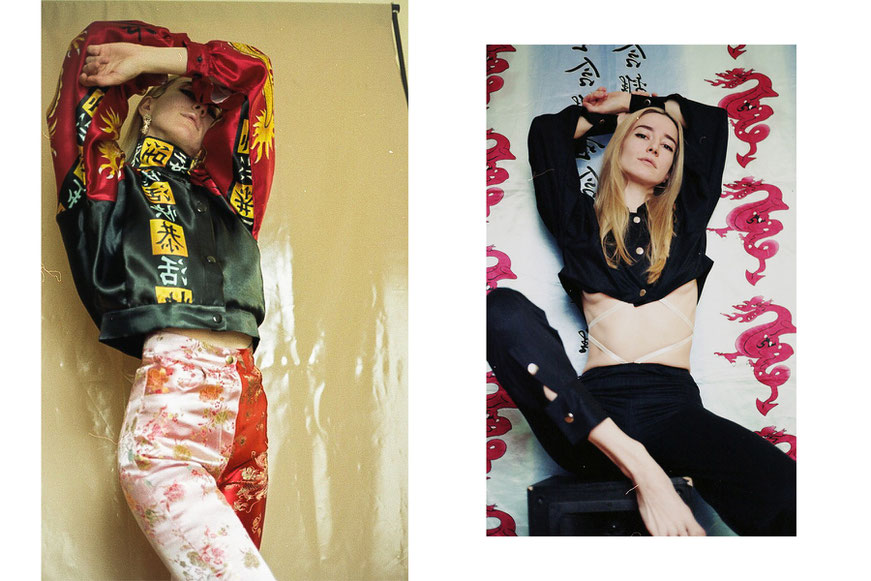 Thank yo so much for the Interview!
Last but not least: Where do we find your great drafts?
You can find all my pieces at my ONLINE STORE 
just a click away but also in IRONIC GALLERY in Berlin and 
ENTER in Prague.